The dining room is more than just a place to enjoy meals; it's a space for gathering, sharing stories, and creating cherished memories with family and friends. Your dining room furniture plays a pivotal role in setting the ambience and style of this special area. At Lighouse, we understand the importance of making your dining room a welcoming and aesthetically pleasing space. In this article, we'll explore the art of dining room makeovers, offering tips and ideas to transform your dining area into a haven of design and comfort.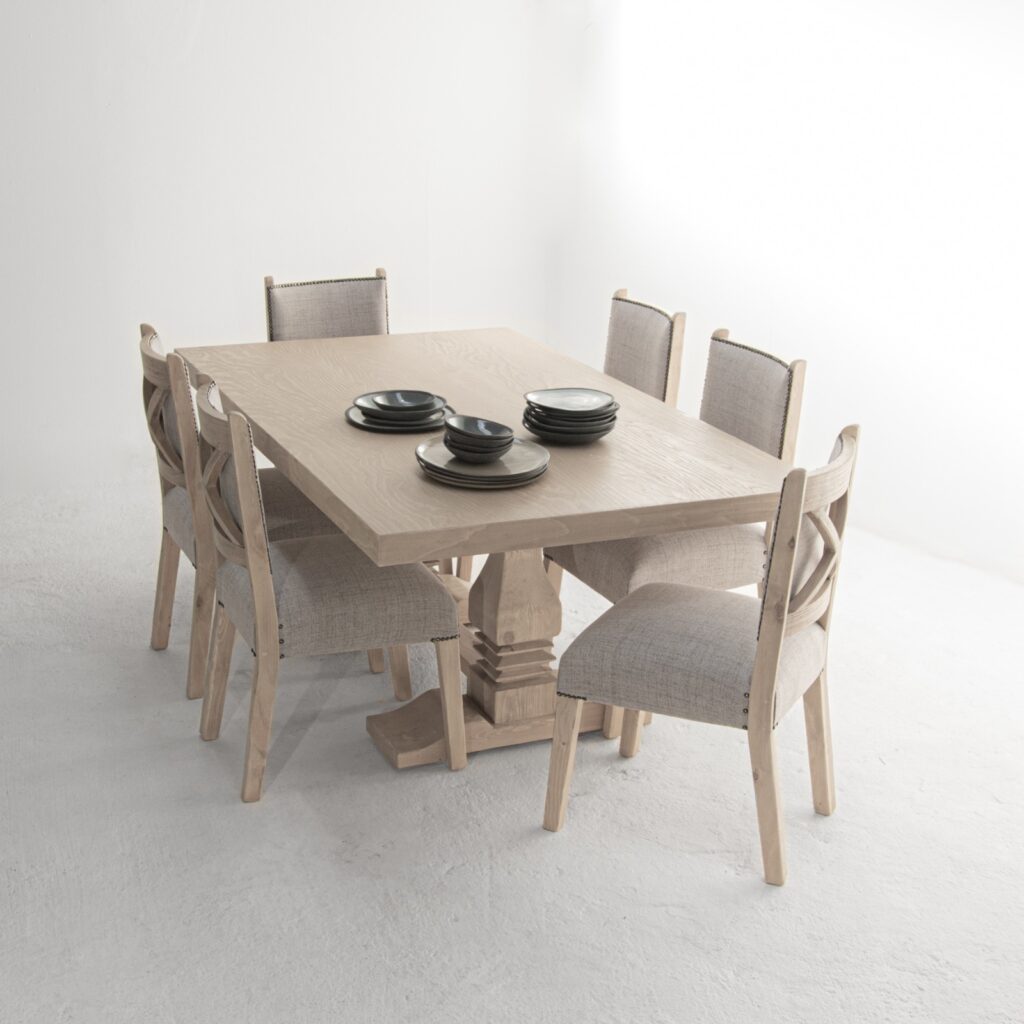 Dining Room Furniture: The Dining Table
The dining table is the centrepiece of your dining room, and it sets the tone for the entire space. When considering a dining room makeover, start with the table. Consider the size of your room and the number of people you want to accommodate. Custom-built dining room furniture allows you to choose the perfect table dimensions, ensuring a comfortable and functional dining experience.
Play with Wood Finishes
One of the most effective ways to revamp your dining room furniture is by playing with different wood finishes. Whether you prefer the classic elegance of dark-stained wood or the fresh, airy feel of natural wood, the finish can completely change the look of your dining set. Coordinating your dining table and chairs with the rest of your decor can create a harmonious and inviting atmosphere.
Mix and Match Dining Chairs
Gone are the days of uniform dining chair sets. Embrace the trend of mixing and matching dining chairs for an eclectic and personalised look. Choose chairs with different styles, colours, or materials to create a dynamic and visually interesting dining room. This approach adds character and uniqueness to your space.
Incorporate Upholstered Seating
For an extra touch of comfort and sophistication, consider upholstered dining chairs. They not only enhance the visual appeal of your dining room but also make extended meals more enjoyable. Select fabrics that complement your overall colour scheme and design concept. Upholstered chairs are a versatile addition to your dining room furniture, providing both style and comfort.
Lighting: A Game Changer
The right lighting can transform your dining room from ordinary to extraordinary. Consider a statement chandelier or pendant light that complements your dining room furniture and adds a touch of drama to the space. The choice of lighting fixtures can create a focal point and enhance the ambience during meals.
Add a Sideboard or Buffet
A sideboard or buffet is not only a practical addition to your dining room but also a stylish one. These pieces offer extra storage space for dinnerware, linens, and more. When selecting a sideboard or buffet, choose one that complements your dining table in terms of style and finish. It can serve as a functional and aesthetic anchor for the room.
Incorporate Art and Decor
The walls of your dining room provide an excellent canvas for adding art and decor that complements your dining room furniture. Consider hanging artwork, mirrors, or decorative shelves with curated displays. These elements can tie the room together and add a personal touch to the space.
Rug It Up
A well-chosen rug can define the dining area within an open-concept space and add warmth and texture to the room. Opt for a rug that fits comfortably under your dining table and chairs, enhancing the overall design. The rug can also act as a unifying element, connecting the various components of your dining room.
Table Settings and Centrepieces
Don't underestimate the power of table settings and centrepieces. Experiment with different tableware, linens, and centrepieces to create diverse dining experiences. Seasonal decor and fresh flowers can add a pop of colour and vibrancy to your dining room.
Embrace Minimalism or Maximalism
Dining room furniture makeovers offer the opportunity to explore your design preferences, whether you lean towards minimalism or maximalism. Minimalist design emphasises simplicity and clean lines, while maximalism embraces bold colours, patterns, and an abundance of decor. Choose the style that resonates with your personality and create a dining room that reflects your unique taste.
In conclusion, a dining room makeover is an exciting journey that allows you to infuse your personality and style into your dining area. At Lighouse, we're here to help you transform your dining room into a space that's not only functional but also a visual delight. With custom-built dining room furniture, you have the freedom to create a dining experience that's uniquely yours.
Ready to embark on your dining room makeover journey? Explore our collection of dining furniture at Lighouse, and let's transform your dining space into a design masterpiece.